3-day International Property Show returns for the 16th time in UAE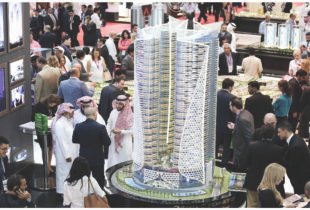 3-day International Property Show returns for the 16th time in UAE
February 18, 2020
Dubai Property Festival will feature the 16th edition of International Property Show (IPS) in partnership with Dubai Land Department and Real Estate Investment Management and Promotion Centre to promote the emirate's property market. The partnership is a qualitative leap in the real estate sector that will see Dubai Properties support DLD's strategic initiatives and projects.
IPS, your global realty partner, that allows retail sales and purchases for both local and international properties, will have its newest edition at Dubai World Trade Centre on 24 -26 March 2020.
The three-day annual mega property event is also the Ideal property sales platform, that convenes real estate developers, investors and buyers from five top regions, such as GCC, EU Countries, North America, CIS Countries, South East & East Asia.
IPS 2020 expects a rise in number of exhibitors and visitors as it coincides with 10th edition of Annual Investment Meeting (AIM), world's leading investment platform, that brings together global investors from more than 140 countries. The multi-featured AIM 2020 themed 'Investing for the Future: Shaping Global Investment Strategies' aims to boost investments across the world in key sectors like real estate, infrastructure, energy, finance and others.
Sultan Butti bin Mejren, Director-General of Dubai Land Department (DLD), said," The DLD considers IPS to be the ideal partner, as it is one of the largest real estate sales platforms in the Middle East. This event helps DLD to achieve one of its most important objectives – spreading real estate knowledge and raising awareness of its activities among target audiences."
Additionally, His Highness Sheikh Mohammed Bin Rashid Al Maktoum, Vice-President and Prime Minister of the UAE and Ruler of Dubai, has issued directives to establish the 'Higher Committee for Real Estate Planning' to create a comprehensive plan for the real estate sector's development in Dubai and a clear strategy to add value to real estate projects. The move is part of increasing the competitiveness and highlighting the attractiveness of the real estate sector, which is a key driver of Dubai's economic development.
The transactional show will also have workshops, conferences, B2C and B2B meetings while property buyers are offered hassle-free on-the-spot ownership as authorised by Dubai's Real Estate Regulatory Agency. There will also be 3 dedicated sessions focusing on the Real Estate Portfolio Investment inside AIM Pillar Foreign Portfolio Investment, which will support UAE developers to attract investment from this Segment. The mega property festival aims to make Dubai, one of the most visited cities in the world, an ideal choice for property investment, and promote the most attractive investment deals to investors from across the world as well as educating them on the possibilities in the international real estate landscape.