Sobha Realty to launch US$15 billion mega township project
Sobha Realty to launch US$15 billion mega township project
August 13, 2020
Sobha Realty, a UAE-based developer, will soon launch a mixed-use master-planned community that could be four times larger than its US$4 billion (Dh14.68 billion) Sobha Hartland, a top official told Gulf Property.
"We are preparing to make the announcement in the next few weeks and the new project will be at least three to four times of the size of Sobha Hartland," Jyotsna Hegde, President of Sobha Realty, said in an exclusive interview with Gulf Property.
"It will be in a very prominent location, somewhere within the Mohammed Bin Rashid City," she said with a smile, without divulging anything further. "We will make the announcement soon."
The move comes at a time when most developers have either postponed project launches or slowed down project construction activities due to oversupply and subdued demand that has further been dampened by the Covid-19 pandemic.
A number of developers last year asked the government to stop approving new projects as they were finding it difficult to sell their existing inventories. Sobha Realty is one of the few developers who went ahead with project launches and construction activities without slowing down.
However, Sobha Realty's decision to launch such a large-scale township at such a critical time reflects the developer's firm belief in the long-term sustainability of Dubai economy and the real estate market.
This comes from the Sobha Realty's sound risk-taking ability led by its visionary leader, PNC Menon, Founder and Chairman of Sobha Realty, who started his life with just US$7 in his pocket in Oman in 1976. A master craftsman, he went on to build palaces, mosques and many architectural landmarks in Oman, India and many other places. He launched Sobha in Dubai in 2003 with a few projects in 2008-09 when the global financial crisis badly affected the global economy and Dubai's real estate market.
He later purchased eight million square feet of land to build Sobha Hartland sometimes around 2011-2012, at a time when Dubai's real estate market was recovering from the effects of the global financial crisis of 2008-2009. He has the foresight to see the 'top' from the 'bottom' – and he indeed had seen the resurgence of Dubai's real estate market then.
Sobha Realty, the UAE's most-backwardly integrated developer, is also one of the few private sector real estate companies to have ventured into developing mixed-use master-planned communities in the UAE. The new project will be Sobha Realty's largest project in the Gulf and one of the largest townships being developed by a private developer.
The new project will be Sobha's third such large-scale project including its joint venture development – MBR City District One – being developed by Meydan Sobha, a 50:50 partnership with Meydan City Corporation.
Sobha Hartland, the developer's flagship mixed-use master-planned community, will host 5,500 residential units, including villas and apartments, when completed in the next few years. It will be completed within the next 4-5 years. By then the new mega township project will keep the developer busy with construction activities and increase its shareholder value.
It is located at the meeting point of Al Khail Road and Dubai-Al Ain Highway, opposite Dubai Design District and close to Business Bay, Meydan Grandstand and Ras Al Khor bird sanctuary. A new metro line is expected to pass by Sobha Hartland. It is also equally close to Bur Khalifa and Dubai Creek Tower – designed to be the world's tallest tower.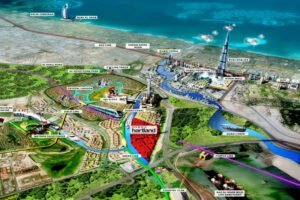 Launched in 2014, Sobha Hartland consists of upscale apartments, premium villas and high-end townhouses, including Greens, Creek Vistas, Creek Vistas Reservé, Gardenia Villas, Garden Houses, One Park Avenue and Forest Villas. The master development is set for completion in 2025.
In 2019, Sobha Realty sold 900 residential units worth Dh2 billion while in 2020, the company has revised its sales target in line with the new market reality following the Coronavirus pandemic. The project is being developed by the company's own resources, sales proceeds and bank debt.
Sobha Realty has so far delivered 450 units while 300 more will be delivered in two months. Three more projects involving 2,000 residential units are currently undergoing construction.
"Business has picked up following the lifting of the lockdown and we expect to close this year with around Dh1.2 billion," Hegde said.
"The panic and fear has now gone and people are looking forward to growth in the second half of the years. We are seeing more and more people returning to the market. We are optimistic of concluding sales of Dh1.2 by the end of the year.
"As we speak, we are in a comfortable situation in terms of sale which will pick up in the fourth quarter when investors and property buyers are allowed to come to the UAE."
The company recently announced that Gardenia Villas Phase II is now complete and in the process of handover. Hartland Greens Phase III (Buildings 5 and 6) is advancing as planned and is at 90 per cent completion with delivery scheduled in 2020.
Despite the current market situation dominated by oversupply and subdued demand, Sobha Realty did not reduce price of properties. It has so far sold 1,880 units.
"Our average selling price is Dh1,600 (US$436) per square feet. The signature quality of our homes speaks for us. Our properties are defined by the signature quality. Besides, it has the best location for a property," she says.
"When it comes to quality, we compare against ourselves. Buyers are paying for everything and we don't have to hard sell the properties. These days, buyers are intelligent and they know what they are paying for."
Despite the challenging impacts of COVID-19 and a halt in operations across multiple sectors, Sobha Realty has put in place several measures to ensure the well-being and safety of its staff and maintain seamless construction activity over the course of the last few months.
Construction across other projects within the master development, including Creek Vistas 1, One Park Avenue, Creek Vistas Reservé and Forest Villas, is also advancing as planned. Sobha Hartland infrastructure is 90 percent complete while 2,000 residential units are under construction and the overall development has reached 25 per cent completion.
Ends