Ithra Dubai partially opens the Dh5 billion Deira Enrichment Project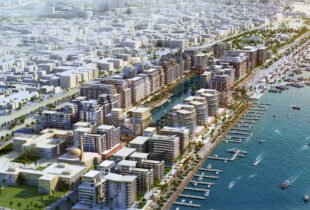 Ithra Dubai partially opens the Dh5 billion Deira Enrichment Project
September 2, 2020
Gulf Property Exclusive
Dubai
Ithra Dubai, a Dubai Government-owned master developer of the Dh5 billion Phase 1 of the Deira Enrichment Project, opened the first four buildings, part of District 3 of Phase 1 of the massive mixed-use master-planned community, for tenants to move in to the first such major development on the Deira side of Dubai – that used to be the main trading and commercial hub of the UAE nearly half a century ago.
Apartment rents start from Dh55,000 for one-bedroom flats to Dh110,000 for three bedroom apartments per year. Although the rents are higher compared to the current rents in Deira, officials are banking on the project's unique attractions that include the newness of the community, superior facilities, amenities, connectivity through public transport network, waterfront location, sea-view, ample parking, easy accessibility, among other factors.
"We are seeing good demand for the project due to its attractive location and other facilities, although the current situation has created a challenge for all businesses," Issam Galadari, Director and CEO of Ithra Dubai, told the media at a gathering.
"However, we are closely monitoring the situation and we are hopeful of filling up the properties with tenants in the next few months. We are updating our offers on rents and we will continue to monitor the situation. If need be, we might adjust our rents and offers, depending on how the situation progresses."
Currently Ithra Dubai is offering a one-month free rent on a full-year contract for one-bedroom apartment and two-months' free rents for 2- and 3-bedroom apartments.
Deira Enrichment Project (DEP) has been developed on an empty plot of land stretching from the Hyatt Regency and Galleria complex till Al Ras Area covering the historic Gold Souq and Murshid Bazaar – the wholesale hub of the spice trade and the bank of the Dubai Creek.
When complete, Phase 1 of DEP will accommodate 50 mixed-use buildings incorporating 2,200 residential units, 416 commercial units, 843 retail outlets, food and beverage units, eight hotels with more than 1,450 rooms and serviced apartments, rooftop experiences, waterfront promenade, neighbourhood parks and several multi-storey car parks with a combined capacity of 8,000 vehicles for tenants and visitors.
The project is split into 19 districts, of which the first five districts are currently being completed for tenants to move in the next few months. These five districts will deliver 311 retail units, 317 office units, 977 residential apartments and 573 hotel rooms and serviced apartments. Ample parking is also available to accommodate residents and visitors.
Among the eight hotels, three are getting ready for opening by the end of this year. These include a four-star Wyndham Dubai Deira with 290 suites and guestrooms, a three-star Days Hotel offering 131 rooms a two-star Super 8 hotel delivering 9 guestrooms.
The three hotels belong to Wyndham Hotels and will cater to a diverse portfolio of guests, tourists, traders and business travellers. DEP is connected to the rest of Dubai with two metro stations – Palm Deira and Al Ras stations that are well connected to the rest of Deira with a network of bus routes.
"We are happy to announce the launch of District 3 of the Deira Enrichment Project. We are driven by one objective and that is to enrich cities and add value to their citizens, whether by elevating lifestyles or offering integrated solutions that balance work, living and leisure,"said Issam Galadari.
"We are committed to delivering the project in a timely manner without compromising on the highest in quality standards. Inspired by the Dubai vision, DEP will reaffirm Deira's historic standing as Dubai's original trading hub and will play a vital role in the future development of the city."
District 3 of the Phase I features 350 residential 1, 2 and 3 bedroom units, ranging from 861 to 2,045 square feet, a four-star hotel with 290 rooms operated by Wyndham Hotels and Resorts, 45 restaurants and retail units, and 721,182 square feet of office space.
Raad Jarrah, Chief Development Officer of Ithra Dubai, said "DEP broke ground in 2017 and is today launching the first of its mixed-used plots. From deference to heritage with a modern application in design and architecture, to incorporated green spaces and a concern for sustainability, DEP accounts for every aspect of Ithra Dubai's vision.
"The development will ease navigation in and around Deira thanks to multi-storey car parks and an integrated transportation hub under construction in District 4. All of Dubai Transport Authority services such as a metro, buses and taxis will be available, facilitating access to public transportation and minimizing dependence on private cars."
Next to Phase 1, 2 and 3 of the project, DEP features the Waterfront Market and the Gold Souk Extension scheduled to open for the public beginning of next year.
Ithra Dubai will next be launching District 1, 2, 11 and 13, equally consisting of mixed-use facilities and boasting of lush green areas and ample parking spaces. District 11 and 13 are dedicated to the Gold Souk Extension and designed to suit the unique needs of gold traders and precious stone merchants.
Rich Heritage
"The project has been designed to re-energise the once vibrant business district of Deira – where it all started," Issam Galadari told Gulf Property on the sidelines of a press briefing, one of the first such gatherings after the Coivd-19 lockdown.
"Deira was the heart of Dubai's economy and the most vibrant trading hub. All merchant activities used to take place on both sides of the creek."
The project has been developed on the bank of the Arabian Gulf on the old Dubai Corniche area. However, the development of Deira Islands by Nakheel has extended the emirate's coastline where a large shopping mall, a few dozen hotels and thousands of residential units will be developed.
The project is surrounded by a dhow wharf – the docking, loading and unloading of commercial cargo on the traditional wooden dhows. Workers are seen loading goods on the wooden boats destined for Iran, Pakistan and even Indian ports – the historic trade route that provided the economic lifeline to Dubai about five decades ago.
"We want these commercial activities to continue and we do not want the facility to be moved. We want them here, next to our project – that will remind us the history and heritage of Dubai, our rich legacy," Galadari, a veteran developer, says.