India's DLF reports Dh6.65 billion sale in FY23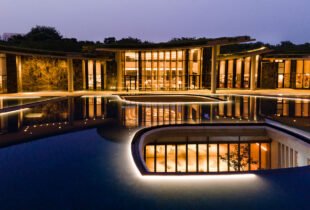 India's DLF reports Dh6.65 billion sale in FY23
May 26, 2023
Staff Report
Dubai, UAE
DLF Ltd, India's leading listed real estate developer, said it achieved new sale transactions of Dh6.65 billion (INR150.58 billion) in financial year ending March 31, 2023 (FY23), driven by investment from Non-Resident Indian investors, especially those based in the GCC countries.
"DLF has set a new record of annual sales in the Indian real estate industry with cumulative new transactions of Dh6.65 billion (INR150.58 billion) in financial year ending March 31, 2023 (FY23), driven by the success of key project launches, including the luxury residential offering, The Arbour, The Grove located in Gurugram among others," a company statement said.
"DLF recorded sales of approximately Dh861 million (INR20 billion) from NRI investors in the fiscal year 2022-2023. NRI investment has consistently played a crucial role in DLF's residential portfolio, majority of which is driven by Non Resident Indians (NRIs) originating from the Middle East region, followed by USA, UK and Singapore."
The listed developer, known for developing super luxury and luxury properties, announced its Q4 FY23 and annual FY23 results in a statement which detailed, "Our residential business delivered a record performance by clocking new sales bookings of Dh3.64 billion (INR84.58 billion) in Q4, reflecting a year-on-year growth of 210%."
Aakash Ohri, DLF Group Executive Director and Chief Business Officer, elaborates "When it comes to NRI investments in Indian real estate, the Gulf Cooperation Council (GCC) remains a key one. For NRI investors from GCC countries, Indian real estate has always been a market with enormous opportunities. Residential real estate provides the NRI community with a unique opportunity to convert their hard-earned foreign income into profitable investment opportunities in India.
"In the last two years, we've seen an increase in the number of NRIs looking to buy a home in India, and pent-up demand has begun to emerge. Post COVID and the weakening of Indian rupee has further pushed the investment from UAE based NRIs in Indian real estate. NRI investments in DLF projects currently range between 12 and 14 percent, and we intend to substantially upsurge that contribution in the coming years. Furthermore, NRIs in the Middle East are optimistic about the Indian market, special provisions such as streamlined tax regime, indexation benefits, cheaper house loan interest, favorable currency movement, digitization of procedures further attracts them to invest their surplus money in India. We are bullish about the growth of this clientele base in the coming years."

DLF's luxury residential offering, The Arbour at Sector 63 in Gurugram, was entirely sold out during the pre-formal launch phase and contributed to sales bookings of Dh3.44 billion (INR80 billion). The Grove in DLF 5, Gurugram, a low-rise luxury development offering 292 residences on plot sizes ranging from 225-539 square metres, had sales bookings of Dh805.2 million (INR18.70 billion) in FY23. Other notable contributions to the FY23 includes The Valley Gardens in Chandigarh tri-city with sales bookings of Dh495.17 million (INR11.50 billion), and Garden City Enclave in New Gurgaon with sales bookings of Dh 463 million (INR10.75 billion). The Valley Gardens is a collection of luxury homes, in Panchkula, Haryana. It is nestled in the foothills of the Shivaliks, with stunning views of the Morni Hills and the Shivalik range. Spread over 34 acres, it is a limited collection of only 424 luxury independent floors, while the Garden City Enclave is a premium plotted development project located in Gurugram, India.
Ashok Tyagi, CEO, DLF elaborated, "In FY24 we should still be looking at sales guidance of INR110-120 billion. The majority of projects in the housing sector will be launched in Delhi-NCR and Chennai. The company has 215 million square feet of development potential in both residential and commercial segments."
DLF, India's largest real estate developer, plans to launch 11.2 million square feet of projects in FY24 with sales potential of over Dh8.61 billion (INR200 billion), senior executives of the company said on an investors call earlier this week.
DLF has developed more than 153 real estate projects and developed an area in excess of 330 million square feet. DLF Group has 215 million square feet of development potential across residential and commercial segments. The group has an annuity portfolio of over 40 million square feet. DLF is primarily engaged in the business of development and sale of residential properties and the development and leasing of commercial and retail properties.